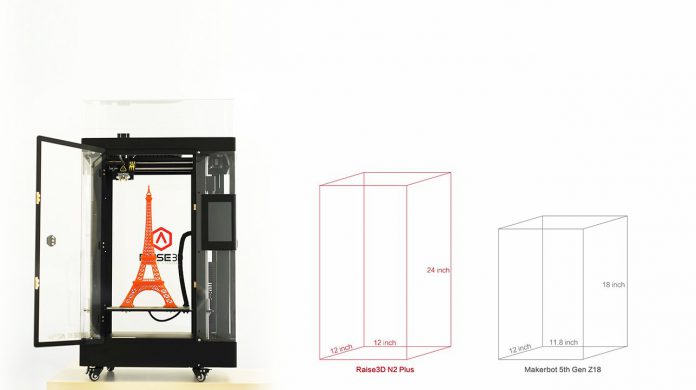 Vous pouvez toujours acheter la Raise3D N2 Dual
---
Accessoires pour Raise3D N2
---
Raise3D N2 Dual Plus, l'imprimante XXL de qualité
Sa rapidité d'éxécution et sa qualité d'impression, alliées à sa capacité à imprimer en grand format en font une imprimante ultra-performante. La nouvelle imprimante 3D Raise3D N2 Plus Dual est dotée d'une technologie de pointe – reprise d'impression, double extrusion – lui permettant d'imprimer des pièces volumineuses d'une grande qualité. Sa simplicité, renforcée par son écran tactile, rend son utilisation facile et sécurisé.
Les points forts de l'imprimante :
Enceinte aluminium fermée
Double extrusion
Réglage automatique du plateau
Grand volume (30 x 30 x 61cm)
Ecran tactile 7 pouces
Wifi + lecteur SD / USB
Technologie Start and Stop (reprise d'impression)
Compatible tous filaments
Montée sur roulettes pour un déplacement facile
Grand volume pour l'imprimante 3D Raise3D N2 Dual Plus
Imprimer en grand est maintenant à votre portée avec l'imprimante Raise3D N2 Plus Dual. Elle est capable d'imprimer des pièces très volumineuses 30,5 x 30,5 x 61cm (longueur, largeur, hauteur) grâce à son enceinte fermée XL.
Double extrusion multi-matières
Plus besoin de se contenter d'une couleur unique pour imprimer un objet. La double extrusion laisse le choix entre deux couleurs multipliant ainsi les possibilités. D'autre part, l'impression simultanée de deux matières, qui caractérise aussi l'imprimante Raise3D N2 Plus Dual, favorise la rapidité d'impression ainsi que l'utilisation de supports solubles.
Une grande qualité d'impression
Avec l'imprimante N2 Dual Plus, la superposition des couches de matière devient invisible à l'oeil nu. La précision peut descendre jusqu'à une capacité à imprimer jusqu'à 10 microns sur l'axe Z. L'autre avantage de l'imprimante 3D est sa stabilité grâce à son cadre en aluminium et un réglage automatique du plateau sans besoin de paramétrage.
Reprendre une impression sur la N2 Dual Plus
Grâce au système de reprise d'impression de l'imprimante N2 Dual Plus, plus question de perdre ses créations lors d'une panne de courant. Par ailleurs, cette imprimante est équipée d'une technologie Start and Stop qui permet l'arrêt et la reprise de l'impression sans perte de temps.
Un écran tactile 7 pouces pour plus de simplicité
L'imprimante RAISE3D N2 Dual Plus dispose d'un écran tactile de 7 pouces qui simplifie son utilisation. Ainsi, il est possible de contrôler les étapes de l'impression depuis le lancement d'une création jusqu'à sa réalisation, mais également d'appréhender les éventuelles modifications de paramétrage.
Imprimer en toute sécurité
Afin de sécuriser les impression 3D sur la Raise3D N2 Dual Plus, cette imprimante 3D dispose d'une enceinte close. La chambre d'impression fermée permet également de fiabiliser les impressions afin d'éviter les risques de warping (décollement des pièces). L'imprimante Raise3D N2 Dual Plus peut donc être utilisé en milieu scolaire et professionnel en toute sécurité.
Fiche Technique
| | |
| --- | --- |
| Marque | Raise3D |
| Technologie | FDM ( dépôt mécanique de matière plastique fondue par couches successives ) |
| Logiciel | IdeaMaker |
| Dimensions (L x l x H) | 616 x 590 x 760 mm |
| Volume d'impression | 305 x 305 x 305 mm |
| Poids | 53Kg |
| Précisions d'impression | Jusqu'à 10 microns |
| Positionnement  Z | 1,25 microns |
| Précisions positionnement XY | 12,5 microns |
| Vitesse de déplacement | 150 à 300 mm/s |
| Diamètre filament | 1,75 mm |
| Diamètre de la buse | 0,4 mm |
| Nombre d'extrudeur | 2 |
| Type de consommable | Filament non propriétaire  |
| Matériaux compatibles | PLA/PLA+/ABS /PC / PETG/ R-FLEX/TPU/HIPS… |
| Plateau chauffant | Oui |
| Ecran Tactile | 7 Pouces |
| Connectivité | Carte SD / Cable USB / WIFI |
| Type de fichiers | .stl, .obj |
| Compatibilité OS | Windows XP+, Mac 10.7+, Ubuntu 14.04+ |