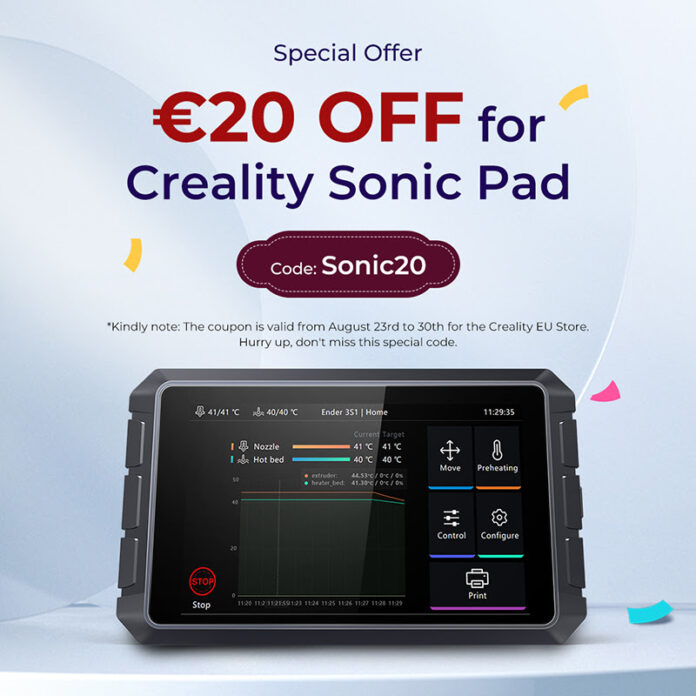 A 3D Printing Pad Based On Klipper, compatible with most FDM printers.
Highly Integrated with Strong Computing Power
Get It Going with No Hitch
Speed Up Printing While Keep the Quality
Intuitive Model Preview
Deft with User-defined Macros
Control Access from Multiple Platforms
Rich Extensible Interfaces
Open Source Commitment
Speed Up Printing While Keep the Quality
The built-in input shaper function will mitigate oscillation during high-speed printing and smooth out ringing, thus keeping the model quality.
One Sonic Pad can control four printers at the same time, making it easy to control multiple printers with printer selection.
The first printer must be connected to the USBI interface (The default interface)
Serial Cable for More Stable Connection
Using a serial cable to connect to the printer can reduce the disconnection problem caused by AC interference and improve system stability.
Highly Integrated with Strong Computing Power
With software-hardware integration, you will get stunning performance, but with less trouble.
Rich expansion interface, more ways to play
Equipped with 4 USB ports, you can access different external devices
● Connect USB camera to realize time-lapse photography and AI detection
● Connect to DSLR camera for shooting function and time-lapse photography-support Canon series cameras
● Connect USB keyboard and mouse for more convenient control
Product Parameters
SoC: CrealityT800
SoC Data Bus Width: 64-bit
RAM: 2G ROM: 8G WiFi Standard: 802.11b/g/n
USB Port: USB 2.0 x 4
LAN Port: RJ45 x 1 (100Mbps)
Vibration Sensor Interface:1
Rated Voltage:12V Display Type: IPS
Display Size: 7 inches
Display Resolution: 1024×600
Multi-touch: Yes
Speaker: Yes
Vibration Sensor: Yes
Package Dimensions: 280*240*60mm
Product Dimensions: 222*128*40mm
Net Weight: 0.46Kg
Gross Weight: 1.35Kg
Compatible models: Ender-3 V2, Ender-3 V2 Neo, Ender-3 Sl, Ender-3 S1 Pro, Ender-3 Pro, Ender-5 Plus, Ender-3 Max, Ender-3 S1 Plus, CR- 10 Smart, CR-10S Pro V2, CR-10 V3, Ender-5 Sl, Ender-5 Pro, Ender-6, Ender-7, Ender-3 Max Neo, CR-10, CR-10 S4, CR-10 55, CR-10 V2, CR-10 Smart Pro, CR-6 MAX, CR-6 SE, CR-200B, CR-30, Sermoon D1, Ender-2 Pro, CR-M4, Ender-3 Neo, Flsun SR , Flsun Q5, Prusa Mini, Prusa MK3S+