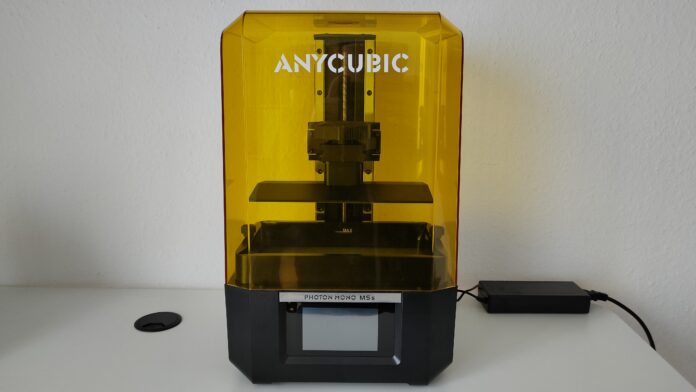 The announcement from Anycubic with its Photon Mono M5s had the effect of an earthquake. Better resolution, new functions, monitoring system, three times faster speed, platter with auto-leveling system. So, technology bomb or marketing ploy?
Here's a summary of its features, with full details in our Anycubic Photon Mono M5s printer price comparison and presentation.
Anycubic Photon Mono M5s on Anycubic Official – $519.00

Tech Specs Anycubic M5s
With a print volume of 218 x 123 x 200 mm, a 10.1″ screen and, above all, 12K resolution (11,520 x 5,120 pixels), the Anycubic Photon Mono M5s leads the way in the new generation of mid-size machines. What's more, it seems to have been designed with ease of use in mind.
---
Machine Weight : 19.6lb./8.9kg
Machine Dimensions : 18.11×10.63×11.41in./ 460*270*290mm(HWD)
Printing Volume:  190oz./5.4L
Printing Dimensions : 7.87×8.58×4.84in./ 200x218x123mm(HWD)
Average Printing Speed : With high speed resin – 105mm/hr.
or 4.13 in./hr. With general resin – 70mm/hr. or 2.76 in./hr.
Machine Leveling : Leveling-free
Light Source : LED matrix UV light source
Z Axis :  Double liners with 10 μm
Resin Vat : Unibody design with scale lines
Exposure Screen : 10.1″ monochrome 12K(11,520 x 5,120px)
resolution 480:1 contrast ratio
4.7 % light transmittance
2,000 hours typical lifespan
Build Platform : Laser engraving aluminum alloy
Control Panel : 4.3″ TFT touch-control
Removable Cover : Effectively blocks UV radiation
Oversized Protection Film : Replaceable anti-scratch film
Power Supply : 100W rated power
Data Input : USB Type-A 2.0, WIFI
---
Unboxing and accessories
Like all resin printers, all you have to do is take this M5s out of the box, remove the tape and various protective covers, plug it in and start it up.
Accessories include :
Plastic spatula
Steel spatula
Power cable
3 Allen keys
Protective film with instructions
Resin filters
Gloves
Mask
USB key
Please note that we don't have any spare FEP supplied with the M5s.
Analysis of the Anycubic Photon Mono M5s
The machine is very light and easy to handle. We have a beautiful laser-engraved tray with the usual Anycubic motifs, a tray with four spouts and the "max" level graduated on both sides. This means we can empty the tray from whichever side we wish. To top it all off, it's easy to attach. The tray is fitted with an ACF-type FEP, which creates a blurred effect.
On the front, an attractive 4.3″ color touchscreen animates the machine. As standard, there's no way to treat the air inside the printer's casing.
The Anycubic chainring on the M5s promises self-leveling, which is probably why its design is different. There are no screws on the side and just a few springs on the top, probably to allow the chainring to be adjusted.
Interface
Anycubic treats us to a beautiful interface and so many buttons that it's hard to know where to turn. We've got the "parent" menu on the left and the in-use menu in the middle, which makes for fairly rapid navigation.
During printing, this screen provides a wealth of information. First of all, a nice visualization of the print progress. The object to be printed appears in dark and the layers already printed in blue. We have real-time information on the machine's self-check, print time monitoring, number of layers, estimated resin and print speed.
Noise pollution
As soon as the display screen is switched on, it's surprising how noisy the machine's fans are. It's almost 80 dB all the same! This ventilation is undoubtedly necessary to cool the components required for fast printing. The good news is that as long as it's not printing, the fans are inaudible.
Power consumption
When the Anycubic Photon Mono M5s isn't printing, it consumes a very low 4W. No other machine I've ever held, apart from DLP technologies, achieves such low idle power consumption.
However, when printing, power consumption peaks are significant. I noted a peak of 120 W. Consumption for 24 hours of printing is high, with an average of 90 Wh, i.e. almost double that of standard 8K printers. In terms of cost per 24 hours of printing, you're looking at around €0.50 per day. To be adapted according to the specifics of your contract, of course (slightly more than 2 kW / 24h).
Slicer
The Photon Mono M5s is compatible with Anycubic Photon Workshop software, the in-house slicer. This allows you to slice your 3D file and send it directly to the Anycubic cloud. Personally, I'm not a big fan of slicer-based media management. So, I prepare my file and supports on Chitubox, then save it as an .STL file and open it with the Anycubic software to slice it.
Anycubic Photon Workshop MSLA SLA slicer
Chitubox Free and Chitubox Pro now support Photon M5s. It is also compatible with Lychee Slicer 5.2.2. For Chitubox Basic, the default lifting profiles are designed for fast resin. I recommend that you copy the settings from the Anycubic M5, without importing them, otherwise Wifi uploads will no longer work. In case of doubt, you'll find my Chitubox profiles here (right-click, Save link / link target). You'll then have a standard profile, a "moderate fast" and the basic fast.
Anycubic connectivity and cloud
You can connect your machine to your box using the M5s' built-in 2.4 GHz WiFi connection. You'll need to create an account with the Anycubic Cloud mobile application, and then you'll be able to send prints remotely, monitor print progress and search for files to print in the proposed catalog. If you want to adapt the proposed files, the application will ask you to switch from the slicer to a computer. All this is accessible even if you're not connected to the same local network as your printer.
The Anycubic Cloud application is very similar to what can be found at Creality, for example, but some options are not yet mature enough, such as changing print settings or file slicing, which requires you to switch directly to your computer. Conversely, the cloud options on the PC are insignificant. All you can do is send a print to the cloud and watch the printer's status: connected, busy or disconnected. It's a safe bet that this will be improved in the future, but for now Creality remains one step ahead in optimizing its software options.
Auto-leveling and failure detection
Auto-leveling is a marvel… I've done everything to make it fail, from fixing the platter incorrectly to raising one side of the printer by positioning miniatures in every corner of the platter, I've never had the slightest problem.
This automatic levelling is made possible by a force sensor system. Anycubic also appears to use this principle to detect potential print failures: if a sufficiently large additional weight falls into the tray, the machine is supposed to stop. What's more, each time it starts printing, the machine will check whether the resin level "seems" sufficient. Yes, seems, because in my tests, it detects when the level is very low and doesn't start printing, while informing you on your smartphone, but when you put a good level of resin but there isn't enough to finish the print, it won't tell you. Nor will it tell you if your print is imperfect. I've been able to cause a lot of failures on purpose (yes, on purpose, I swear), but as long as the print doesn't come off completely, the machine doesn't seem able to realize that there's a problem. We're not yet at the monitoring level of a Bambu lab, for example, but this innovation already gives us hope that we're on the right track.
Anycubic M5s test prints
I couldn't resist testing the machine's printing speed. On the USB key, Anycubic provides a test print of over 19 cm in height, with a print time of less than two hours. With Anycubic High Speed resin, the figure came out in less than 2 hours, with a more than acceptable level of detail. Following on from this, I tested the small print in less than 43 minutes, which came out with a good level of detail. When I connected the machine to the Anycubic mobile application, I was offered new test prints, and I also tested one which came out quite cleanly. The Anycubic test files, on the other hand, are going to need some slicing. Between awfully thick substrates and a raft that lies flat on the tray, these are not the easiest prints to process cleanly.
A note on high-speed printing and the resin supplied: the Anycubic High Speed
If you're looking for a high-speed printer, note that your resins will be expensive. Apart from the manufacturer's resin, the very liquid resins seem to be compatible with high-speed printing, to be adapted with exposure tests. I tested with my usual resins, standard Sunlu and ABS-like, so you won't be able to take advantage of high speed with these resins. However, Siraya Tech and Anycubic DLP resins work after a few adjustments. You should also bear in mind that with these resins, you'll be printing faster and therefore using up your resin more quickly. In less than 12 hours of printing, that's one liter of resin gone. That's a lot of information if you're planning high-speed production runs.
In order to test leveling, I printed out Pokemons and role-playing dice, in "Speed" please. The dice came out in 20 minutes, the Pokemon in 33.
I then printed Sanix's Lady Deadpool in "Speed". It came out in 1h06, but unfortunately I noticed some quite visible aliasing. To make sure that all was well, I repeated the print with standard gray Sunlu resin at "normal" speed: the aliasing was almost undetectable. Rest assured, this Anycubic M5S doesn't produce aliasing at "conventional" speeds.
However, fast printing suggests a drop in quality, unless it's linked to the quality of the resin, but it's hard to say. As it is, the "Fast" settings on the Anycubic slicer set the layer at 0.1 mm against 0.05 for standard, and I normally set it at 0.02 mm (although I'm not sure that a value below 0.5 is really considered by the machine). As a result, there's usually very little perceptible drop in quality in Fast.
Speed tests were also carried out on Chitubox. With the basic fast profile. I tried changing the resolution from 0.100 to 0.050 mm, and activating anti-aliasing, the result is better but still less qualitative and the speed is less spectacular.
As far as 12K resolution is concerned, it's hard to see any real improvement. You'd have to find files modeled for it, or reduce the size of a figure to less than 2 cm. So it's too early to see the difference, but now designers can set themselves a new challenge.