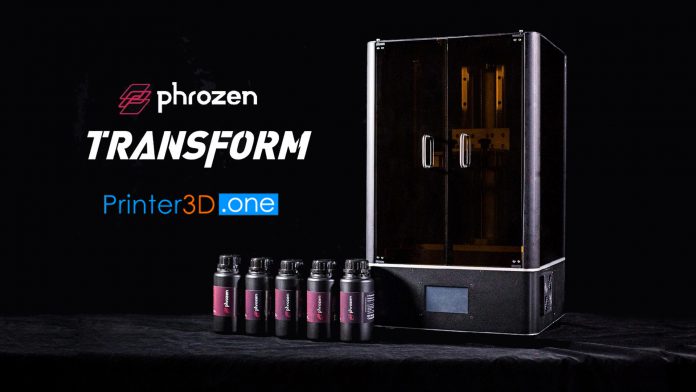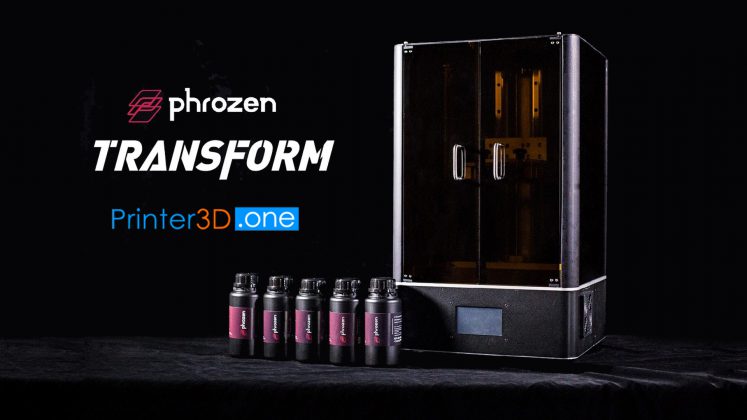 Présentation
Ideal for dentistry, jewelry, prototyping.
For this latest 3D printer, Phrozen sets the bar very high, with the Transform and his 13.3 "LCD screen and 40 cm (15.75") Z axis, you can print large projects quickly and easily.
The Transform is a consumer 3D printer with the highest production volume. It is ahead of all other consumer resin printers with a print volume of 292 x 165 x 400 mm (11.5 x 6.5 x 15.75 in).
$1,690.89 USD / $1,922.99 USD until 31st/Dec/2019 https://www.phrozen3dp.com/products/phrozen-tansform
Or here for EU buyers (located in France) :
https://www.atome3d.com/products/phrozen-transform-imprimante-3d-ultra-haute-resolution-pre-commande?ref=j_zJOMaoN-ta&variant=20822536486966
Large print area doesn't sacrifice detail: 40 cm (15.75 inch) Z axis is almost twice as long as other machines in its class, which means that Phrozen Transform has the necessary stability to render your drawings with an XY resolution of 76µm.
With Phrozen Transform, you will never have to assemble your print again!
The Phrozen Transform printer transcends the common configuration of a simple linear rail and a lead screw by combining a CNC structure in extra large and extra thick aluminum alloy with two linear ball screw rails to obtain a stable printing process with almost zero flicker.
The high-end double linear rails guarantee precision and straight horizontal orientation during printing. Ball screws, also high-end, allow to adjust the speed, to diversify the applications and to obtain more precise and more stable printing performances, thus eliminating the type of corrugation of the print which characterizes the big prints.
Technical Specification
Printer Size: 38 * 35 * 61 cm
Printer Weight:  29 Kg
Printing Volume: 29 * 16 * 40 cm
XY Resolution: 76 µm
Z Resolution: 10 µm
Printing Speed: 10 mm per hour
Recommended Layer Height: 10 – 100 µm
Power Input: 100-240 VAC; 50 / 60 HZ
Package Includes
Phrozen Transform LCD 3D Printer * 1 pc
Black Power Cable
Printing Kit (Gloves, Wiper/Scraper, Funnel)
Resin is not included. Remember to buy one for best experience.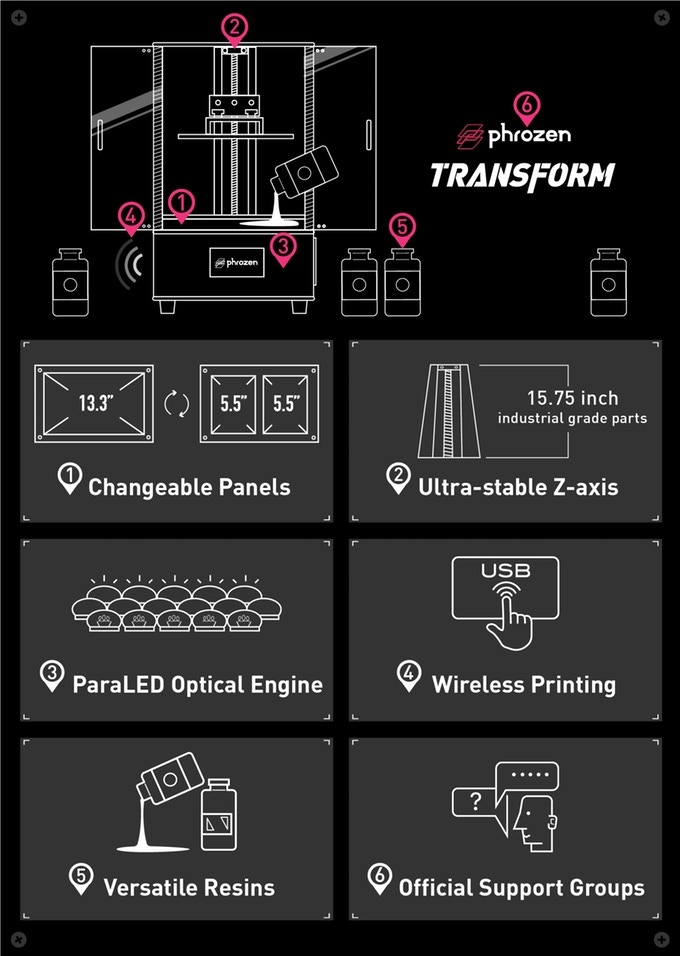 Resins:
https://www.atome3d.com/collections/resines-phrozen?ref=j_zJOMaoN-ta
Parts :
https://www.fepshop.com/product/parts/phrozen-parts/transform/
https://www.atome3d.com/collections/accessoires-phrozen?ref=j_zJOMaoN-ta
Buy FEP :
Some videos: