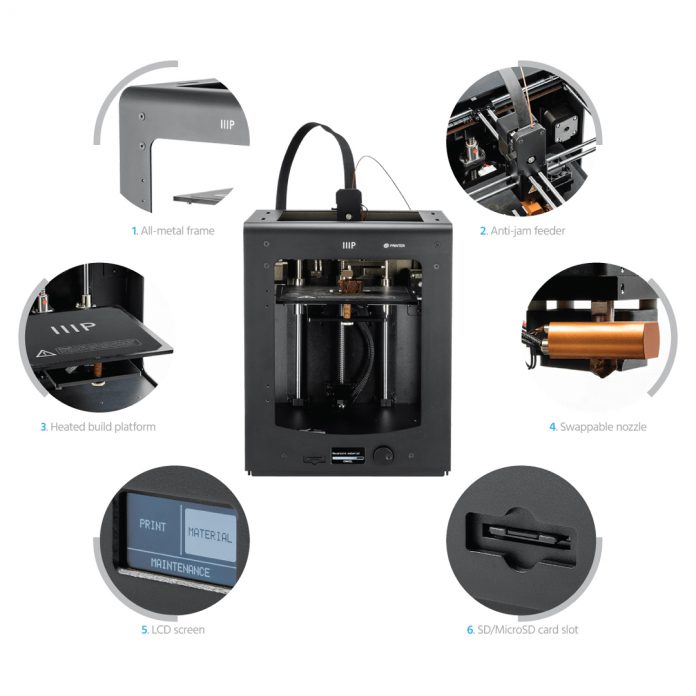 Updating post… Come back in a few days
This Monoprice Maker Ultimate 3d printer is a very good value for money, just $699.99. It is ideal for starting in 3D printing. It is robust and easy to use. We have been using it for 9 months without any problem.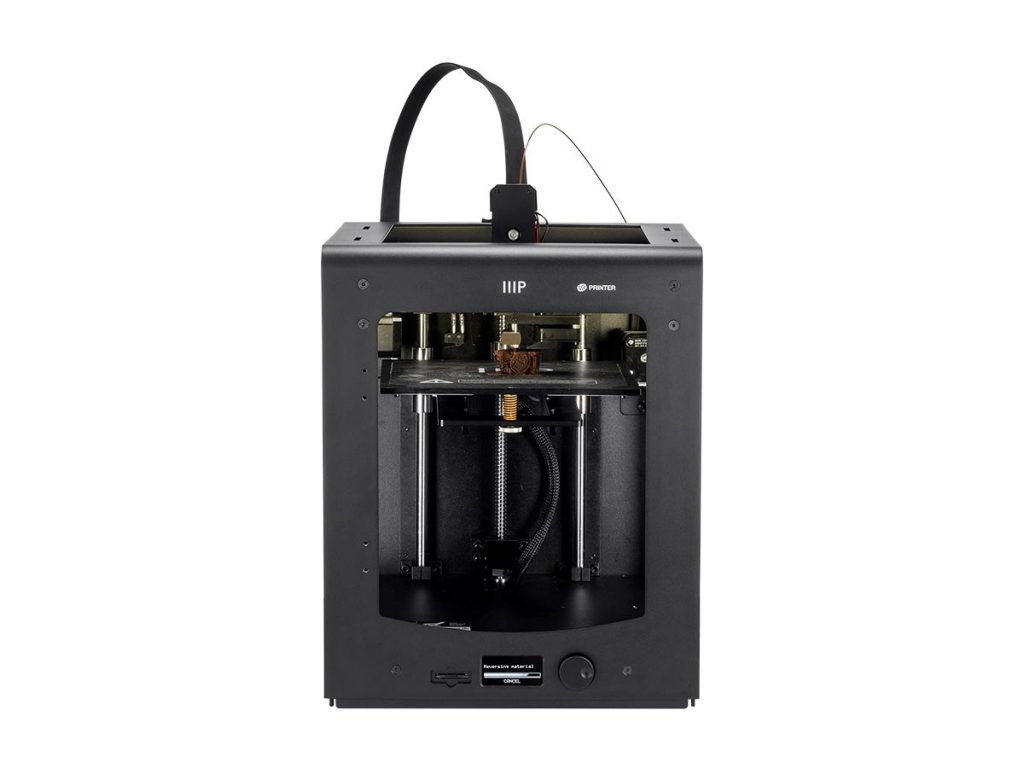 Where to buy 3d printer in USA ?
Monoprice has a very good customer service. But I still advise you to buy directly on Amazon to benefit from all the advantages of Amazon Prime.

Maker Ultimate 3D Printer presentation by Monoprice
The Ultimate 3D Printer is capable of professional quality 3D printing with a fine layer resolution as low as 20 microns (0.02 mm). The rigid all-metal frame design results in a stable print platform, which allows for print speeds up to 150 mm/sec. The printer has a heated build plate and can therefore print PLA, ABS, PVA, HIPS, and other popular filament types. It can print gcode files from a computer using a USB connection or from an SD card. It is compatible with computers running Microsoft Windows, Macs running OS X, and Ubuntu Linux. The low operating noise of less than 49dBA allows it to be used in the home or in a business or office environment.
Monoprice Maker Ultimate Features
Ultra high 20 micron layer resolution
Can print from USB connection or SD™ card
Up to 300 mm/sec print speed
Extruder nozzle temperatures from 180 ~ 260°C
Build plate temperatures from 50~ 100°C
200 x 200 x 175 mm build volume
Compatible with Windows®, Mac® OS X®, and Ubuntu Linux
Monoprice Maker Ultimate Specifications
 Specifications

Monoprice Maker Ultimate 

3D Printer

Heated Build Plate
110° (Perfect for PLA)
Build Area
7.9″ x 7.9″ x 6.9″
(200 x 200 x 175 mm)
Resolution
20 microns (0.02mm)
Filament Diameter
1.75mm
Printing Speed
150 mm/sec
Max. Extruder Temp.
500°F (260°C)
Connectivity
USB, SD™ card
Compatible Software
Cura (recommended),
Repetier-Host, ReplicatorG,
Simplify 3D
Printable Materials
ABS, PLA, XT Copolyester,
PET, TPU, TPC, FPE, PVA,
HIPS, Jelly, Foam, Felty
What's in the box
---
1x 3D printer
1x Spool holder
1x Print bed mat
1x Package of hex wrenches
1x AC power cord
1x USB cable
1x Tweezers
1x Scraper
1x Card reader
1x MicroSD™ card with adapter
We have made a lot of reviews of this 3d printer on this dedicated website. And as you know Monoprice Maker Ultimate 3D Printer is a rebranded version of excellent 3D printer Wanhao Duplicator 6.