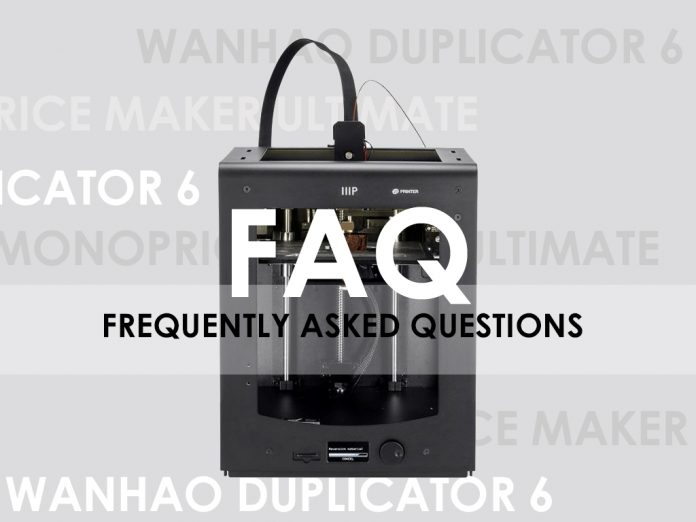 Q&A / Most Common Problems & their Fixes for Wanhao Duplicator 6 & Monoprice Maker Ultimate
Frequently asked questions (FAQ) is under construction
My 3D printer displays "ERROR – STOPPED Temp sensor"
Check the black ribbon cable / replace it. if the problem persist contact your reseller : motherboard seems died
http://www.printer3d.one/en/wanhao-duplicator-6-error-stopped-temp-sensor-message-fix/
My 3D printer displays "ERROR – STOPPED Heater error"
Check heater probe / Check the black ribbon cable / if the problem persist contact your reseller : motherboard seems died
Problem with extruder: filament blocked in tube ptfe / throat / pipe / nozzle
http://www.printer3d.one/en/forums/topic/problem-with-extruder-filament-blocked-in-tube-ptfe-throat-pipe-nozzle/
Nozzle clogged or damaged extruder on Wanhao D6
http://www.printer3d.one/en/forums/topic/nozzle-clogged-or-damaged-extruder-on-wanhao-d6/
http://www.printer3d.one/en/forums/topic/3-methods-to-resolve-the-problem-with-wanhao-duplicator-6-d6-nozzle-clogged-3d-printer-tips/
Current Wanhao Duplicator D6 issues
THIS IS A LIST OF THE CURRENT ISSUES AND IMPROVEMENTS THAT CAN BE MADE TO THE D6 TO MAKE IT A FORMIDABLE PRINTER. IF ANYONE HAS ANY OTHER SUGGESTIONS PLEASE LIST THEM BELOW.
Current Software Issues :
Filament load process – currently the Material, Change process follows a Bowden tube load (slow, fast, slow) despite the D6 not being a Bowden tube machine.
Platform lowering – At the end of each print the build plate does not lower to the bottom of it's travel. Also, if you choose Maintenance, Advanced, Lower Buildplate the build plate rises, lowers, rises again the lowers and stops just 50mm below the nozzle.
Version – choosing Version in the Maintenance, Advanced menu currently blanks the screen and jumps back to a previous option.
Buildplate Speed – the current Z-axis speed is set to just 5mm/s. While this is changeable in Maintenance, Advanced, Motion Settings menu option it really needs to be set default at around 25-30mm/s
Current Hardware Issues :
Fan noise – The lower and extruder fans tend to be quite noisy. Please use quieter, silent fans
Print cooling – the current single head cooling fan is drastically insufficient to provide small quality prints. The machine needs to be fitted with dual fans as standard to provide best print quality.
Filament tube guide – the machine should be provided as standard with a filament feed tube from the rear of the machine to the extruder head. The case hole for a tube guide is there but no hardware (mount and tube) is provided with the machine.
Filament spool holder – the one supplied is too short for many filament rolls, particularly those of 1kg+ size. Ideally 2 lengths of spool holder (short and long) should be provided with the machine.
Rubber feet – the lower edges of the machine frame is plain metal. The corners should be fitted with flexible feet to protect the surface and also to reduce vibrations.
Door
Door – the supplied door needs to have a fixing mechanism on the handle side, preferably with magnetic latching, to reduce vibrations and ensure the door remains closed during printing